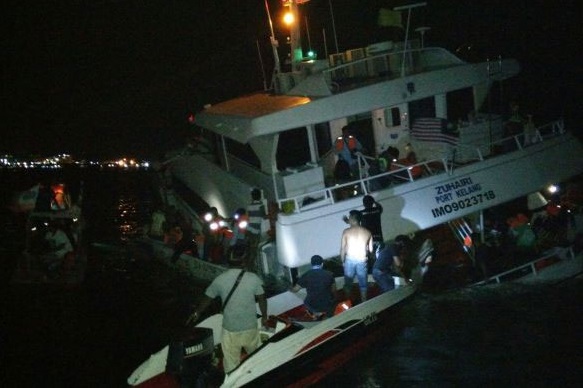 A total of 158 people on board were rescued after it collided with a scow near Labuan Haji, Pulau Bum-Bum about one kilometre off here.
There were 12 Filipinos and 5 Malaysians rescue passengers, who suffered non life-threatening injuries and were hospitalized.
Tawau MMEA enforcement chief, Capt Anor Jaafar in a media conference at the MMEA office here today said all 160 passengers and crew of the ferry were saved by about 9.15pm. The ferry was en route from Bongao island to Semporna, but at approaching of the port collided with towed barge, which caused breach below the water line and started getting water ingress.
"Most victims were able to be taken out unharmed as the ferry was sinking slowly though some sustained some minor injuries during the collision, " witnesses told The Star.
A rescue operation involving the marine police, navy, Malaysian Maritime Enforcement Agency and Fire and Rescue Department was launched after a distress call was made.
He said the ferry was now still at the site and could not be moved.
Meanwhile, police could not be contacted for further information on the incident.
Semporna District Officer Dr Chacho Bullah said damages to the ferry which belonged to a local resident is estimated to be worth about RM1 million.