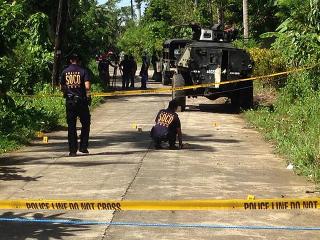 SULU - Two Army soldiers were killed by suspected Abu Sayyaf terrorists in Sulu on Tuesday morning, a police report said.
The police report said the two soldiers were gunned down while traversing a municipal secondary road at Sitio Tibongbong, Barangay Igasan in Patikul town.
Police said an initial investigation showed the incident was perpetrated by Abu Sayyaf men under the command of sub-leader Morasil Mudjahirin.
At present, the Abu Sayyaf is still holding at least four hostages, three of them foreigners, although the military has yet to verify the exact location where the victims are being kept.
Last week, a video showing the hostages appealing for help circulated on the Internet.
One of the hostages, Norwegian Kjartan Sekkingstad, said they are being held in Sulu and that they will be executed if their respective governments will not give in to the Abu Sayyaf's ransom demand.
The Abu Sayyaf has demanded a P1-billion ransom for each of the hostages.
The other hostages are Canadians John Ridsdel and Robert Hall and Filipina Marites Flor. They were seized from the posh Holiday Oceanview resort in Samal Island on Sept. 21 last year.