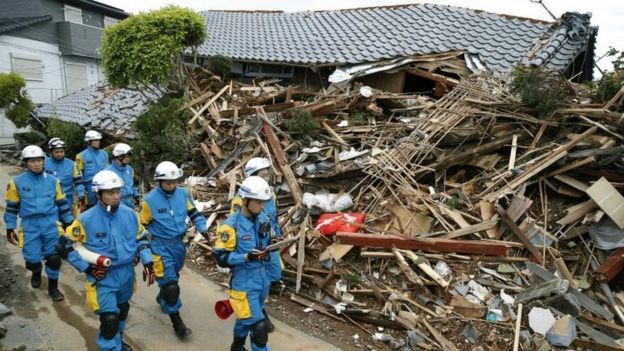 The search for survivors of two powerful earthquakes that struck the south-western Japanese island of Kyushu has intensified.
Rescuers used improved weather on Sunday to fly helicopters to the worst-affected areas as tremors continued.
Concern is also growing for nearly 250,000 homeless people.
At least 41 people were killed in Thursday and Saturday's quakes and it is feared that dozens of people could still be trapped under rubble.
The BBC's Robin Brant says fears persist that another big quake may further damage houses already weakened.
About 2,000 people were treated for injuries and nearly 200 are said to be in a serious condition.
Prime Minister Shinzo Abe has announced that he will increase the number of troops participating in the rescue effort to 25,000 while accepting a US offer of air transportation in the rescue efforts.
At the scene: BBC's Rupert Wingfield-Hayes
Across the valley from where I am standing in the small town of Minama, a huge landslide hundreds of metres long has severed a highway and buried part of the area.
Rescuers using earth-movers are now clearing away tonnes of mud and rock from around the half-buried houses. It's thought at least eight people are buried in the slide, although it could be more.
There has been heavy rain overnight and aftershocks are continuing to strike all the time.
In the badly hit town of Mashiki thousands of people spent a third night sleeping in evacuation centres, in their cars, or even in the open.
People here are very badly shaken. This part of Japan is not prone to large quakes. Everyone I have spoken to has said the same - they have never experienced anything like this in their lives.
The weather is now much improved from the wet and cold conditions of Saturday night, although electricity supplies remain erratic and many buildings still standing are not structurally sound.
Firefighters have distributed tarpaulins to residents to cover damaged roofs, but in many deserted homes there was no-one to use them.
Correspondents say that the indiscriminate nature of the destruction meant that some houses have been reduced to piles of debris while adjoining homes have been left standing, seemingly undamaged.
About 422,000 households are without water and 100,000 without electricity, the government said.
One town badly affected by the two quakes was Mashiki, where few of the traditional style wooden houses remained intact,.
"I sleep in a car and stay in this tent during the day," Mashiki resident Seiya Takamori, 52, told the AFP news agency, pointing to a shelter made from a blue plastic sheet.
His neighbour Masanori Masuda, 59, said many houses were left standing after the first tremor, only to be significantly damaged in the second quake struck. As a result many occupants are without basic necessities.
"I need batteries to charge my mobile phone. Also, I need a toilet. I am afraid of going into the battered house, but I cannot help it. I take a bucket of water with me and have to use the toilet in the house," he said.
Bank of Japan Governor Haruhiko Kuroda, attending a G20 event in Washington, said it was too soon to analyse the economic damage caused by the quake, but bank operations in Kumamoto were still functioning normally.
Saturday's magnitude-7.3 quake struck at 01:25 (15:25 GMT on Friday) close to the city of Kumamoto, which had been hit by a magnitude-6.4 quake on Thursday night.
Both quakes were shallow, causing huge damage to roads, bridges, tunnels, homes and buildings. Big landslides cut off remote mountain villages.