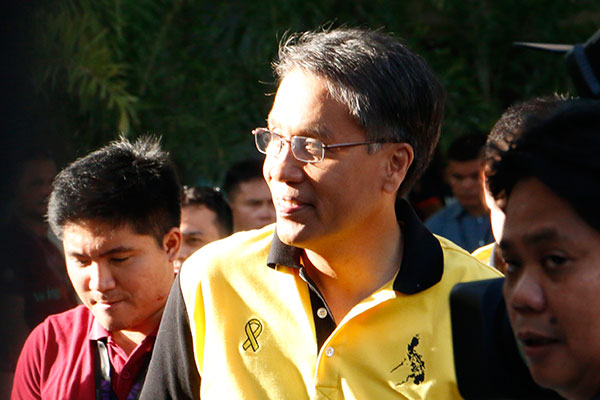 LA CARLOTA CITY, Negros Occidental – Liberal Party (LP) presidential bet Manuel "Mar" Roxas II Tuesday urged the Moro National Liberation Front (MNLF) and the Moro Islamic Liberation Front (MILF) to help in the efforts against the Abu Sayyaf following the beheading of Canadian kidnap victim John Ridsdel.
Roxas said the MNLF, the MILF and other stakeholders must show that terrorism has no place in the Philippines, whose development has been hampered by the presence of armed groups involved in kidnappings and bombings.
"I call on our partners in the peace process, the MNLF and the MILF. It's an opportunity for you to show that you are one with decent and peace-loving Filipinos that such heinous crime has no place in our country," Roxas said in a press conference here.
"There is no point to this. There is no space for this. We must all join together regardless of our goals, political philosophies, concerns and advocacies. There is no room for the brutality that we have seen exercised by the Abu Sayyaf," he added.
Roxas said the full force of the state and of the law must be applied to apprehend and bring the perpetrators to justice.
"Terrorism is bullying in its most worst form (sic). What's the sense of killing someone who cannot fight back just to make a point? You won't get anything from it," the LP standard bearer said.
"It does not make you strong. It does not further your cause. It only leads to fear and subjugation, which we know is your true purpose. And we will not be cowed by that," he added.
Roxas also sympathized with the family and loved ones of Ridsdel even as he expressed confidence that authorities are doing their best to run after his abductors.
He said the modernization of the police and the military should continue while the government intensifies an "all-out development" policy in Mindanao.
Ridsdel and his fellow Canadian Robert Hall along with Norwegian resort manager Kjartan Sekkingstad and Filipina Maritess Flor were kidnapped by about 20 armed men at the Ocean View Resort in Samal Island off Davao Oriental last September 21.
Abu Sayyaf members demanded P300 million for each of the victims but the April 25 deadline they set lapsed apparently without the payment of ransom.