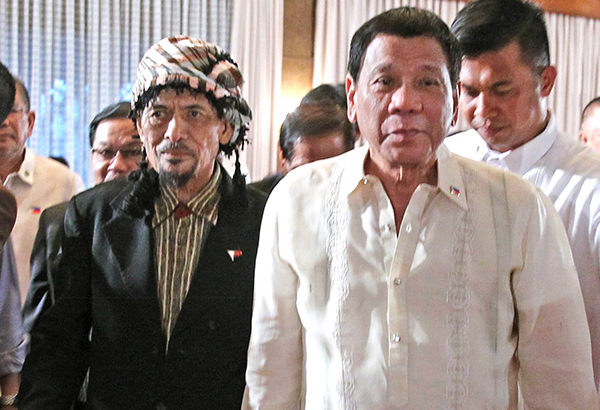 Fifteen years after President Arroyo had the MNLF leader arrested, President Duterte has warmly embraced him
ON Thursday afternoon, I clicked on Facebook and saw a photograph shared by my Jolo contact.
It was that of Moro National Liberation Front (MNLF) founder Nur Misuari at the airport in Jolo town, southern Philippines. Misuari was on his way to Manila, about a 90-minute flight, to meet Philippine President Rodrigo Duterte.
I screenshot the photograph and sent it to my contacts, who monitor Misuari's activities, with the message: "Misuari flying to Manila!"
It might seems like Misuari's meeting with Duterte was an internal matter of the Philippines.
But for Malaysia, it is not. We've got a long history with Misuari.
His Manila visit was historical as Misuari had been hiding for three years in his MNLF headquarters in Jolo island. There's an arrest warrant against him for the 2013 siege of Zamboanga City.
(On Sept 9, 2013, according to the Philippine Daily Inquirer, about 200 rebels from the MNLF faction led by Misuari stormed into Zamboanga City in boats and took over several coastal villages, triggering a month-long standoff between government forces and the rebels, who held civi­lians hostage.
The assault, as reported by Inquirer, apparently aimed at thwarting a government peace plan with the Moro Islamic Liberation Front (MILF), paralysed the city of over a million residents, razed 10,000 homes and reduced 30ha to 40ha of once-thriving communities to rubble.
The fighting left about 218 dead and hundreds more wounded and over 100,000 residents fled to eva­cuation centres.)
Duterte had gotten the court to suspend the enforcement of Misua­ri's arrest warrant and all court proceedings against him for six months.
In Malacanang, the official residence of the Philippine President, Duterte and Misuari embraced like "long-lost brothers". And Misuari vowed to help bring peace to the restive southern Philippines.
Misuari also dropped a bombshell that reverberated in Malaysia, especially in Sabah. He linked Malaysia to the Abu Sayyaf kidnappings on the east coast of Sabah.
"Our source is saying that since Malaysia is the one who is involved in this kidnapping for ransom, pro­bably, one day, I will drag their lea­ders into that International Criminal Court," he said.
"My people are everywhere and besides, they cannot escape because they are hiring my own people."
Malaysian leaders have also accused Misuari of the same thing,
On July 18, 2014, The Star reported that Home Minister Datuk Seri Dr Ahmad Zahid Hamidi said Misuari might be the hidden hand behind the kidnappings in Sabah.
"We are not ruling out that he has a hand in the incident," Dr Ahmad Zahid said. "We believe that he is amassing funds, including from ransom money, to set up his own army."
The business of kidnapping in Jolo island is very murky: the Abu Sayyaf, MNLF and elements in the Filipino and Malay­sian security forces are said to be interconnected.
And when you point one finger to accuse someone of being involved in kidnapping, three fingers are pointing back.
Malaysia has got a long history with the 77-year-old Misuari.
In the Jabidah Massacre, at least 68 Filipino Muslim military trainees were killed at an island off Manila by the Philippine military in 1968.
The murdered trainees were part of a plot by then Philippine President Ferdinand Marcos to infiltrate and destabilise Sabah. They were killed as some had objected to Operation Merdeka, a covert mission to either take over Sabah or to encourage Sabahans to secede from Malaysia.
The massacre sparked a Muslim rebellion. In 1969, Misuari founded MNLF to establish an independent Moro nation through the barrel of the gun.
"Malaysia took its revenge a year after the Jabidah killings," wrote Marites Danguilan Vitug and Glenda Gloria in their book Under the Cre­scent Moon: Rebellion in Mindanao.
"It provided succour to rebels from the secessionist MNLF, aiding them with arms and military training in Sabah. For years, Sabah was home to the MNLF."
In 2001, fleeing from the Filipino security forces, Misuari returned "home".
Here's what my Sabah colleagues and I wrote on Nov 24 that year: "The last few days of the cool, calm-looking former professor were frantic. Misuari's decision to start a fresh rebellion swept him into desperation and he headed towards his old haunt at Jampiras on Sabah's shores.
"The 61-year-old suspended go­­ver­­nor of the Autonomous Region for Muslim Mindanao (ARMM) landed on Jampiras and was promptly arrested by the Malaysian police on Saturday morning.
"Hot on his heels was the Philippine military intelligence as he fled Jolo on Wednesday in a twin-engine speedboat to the Sulu Sea in the waters that border the Philip­pines and Malaysia.
"His plan was to meet up with old friends in Sandakan to facilitate a safe passage to a Middle East country where he hoped his Organisation of Islamic Conference contacts could get him out of his latest skirmish with the government of President Gloria Macapagal Arroyo."
A few days later, my colleague and I met Misuari's handler at his favourite coffee shop in Kota Kina­balu.
The intelligence operative told us that the green light was given to provide Misuari a safe passage. How­ever, when he was in a safe house in Sandakan, an order came from Kuala Lumpur to apprehend Misuari and send him back to Manila as a deal had been struck with Arroyo.
The operative felt that Malaysia had mishandled Misuari and we would pay for it.
With Misuari back in circulation through his friendship with Duterte, it remains to be seen if he still feels the sting of Malaysia's action in 2001.
Some intelligence operatives fear he could bring Zamboanga siege 2.0 or launch Tanduo 2.0 in Sabah.
By Philip Golingai