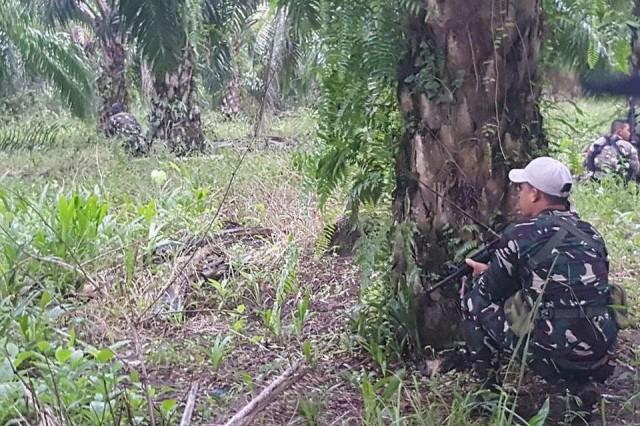 QUEZON: Ten New People's Army (NPA) rebels and two soldiers were reported killed in a firefight in General Nakar town in Quezon Thursday afternoon.
Troops from the Army's 80th Infantry Battalion were on a combat operation when they caught up with about 30 communist rebels around 2 p.m. in Sitio Pahimuan in Barangay Lumutan, said the unit's commander Lieutenant Colonel Randolph Cabangbang.
"It was meeting engagement. Two of my men were killed and two more were wounded but the NPA lost a lot of men," said Cabangbang of the clash with the NPA's Narciso Antazo Aramil Command.
Troops were not able to recover any enemy body but Cabangbang said efforts are underway to locate where the rebels were buried.
Major General Rhoderick Parayno, commander of the Army's 2nd Infantry Division, said information revealed 10 rebels died in the fighting.
"Based on information provided by witnesses, 10 were killed on the NPA side. But we were not able to recover their bodies because it was already dark when the fighting ended and we have to evacuate our casualties also," said Parayno.
The troops managed to only recover at the site a grenade rifle, several rounds of ammunition, and empty shells.
In Mati City, an NPA rebel died and two soldiers were injured after a firefight in the hinterlands of Barangay Tagbinonga around 11:50 a.m.
Thursday, said Army 20th Infantry Battalion commander Lieutenant Colonel Ramon Zagala.
Zagala said combined troops from his battalion and from 66th IB were on combat operations when they clashed with the NPA's rebels.
"Enemy positions were hit by 105mm artillery rounds as combat support to engaged troops," said Zagala.
Zagala said the rebels withdrew after 30 minutes of fighting, leaving behind their dead comrade. He said the slain rebel was brought to city proper for identification.
"The Philippine Army will continue stability operations against lawless groups that undermine our democratic way of life and institutions. These terrorists are not to be tolerated meeting the full force of the government to maintain law and order," said Zagala.
(VR/SunStar Philippines)