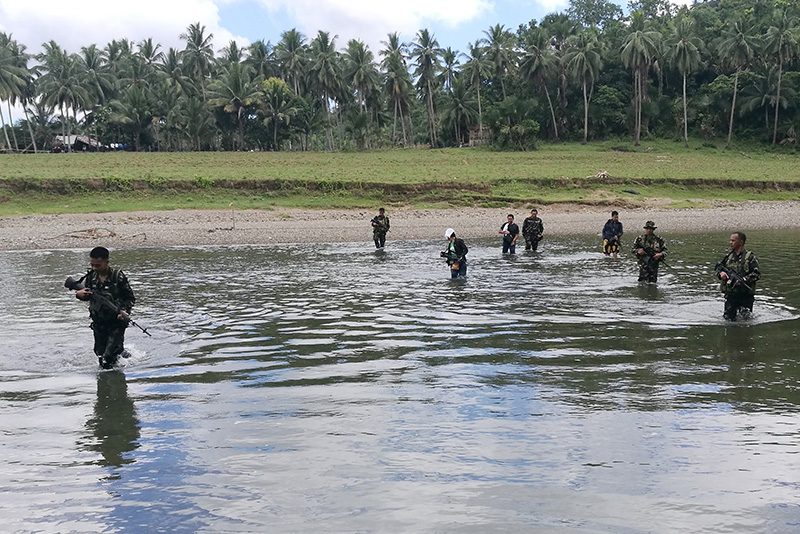 Soldiers wade through a river as they search for the hideout of ASG in Inabanga
MANILA, Philippines — Three Bohol citizens were rewarded by the government for tipping authorities off on the whereabouts of Abu Sayyaf Group members, resulting in the death of Joselito Melloria — alias Abu Alih — and three others.
The three civilians whose names have been withheld for security reasons, were rewarded by the Duterte administration after helping joint elements of the Armed Forces of the Philippines and Philippine National Police in locating rebels who were hiding in the caves of Barangay Bacani, Clarin, Bohol.
This, after President Rodrigo Duterte went to Bohol weeks earlier to attend a security briefing during the ASEAN meetings there and promised a reward for those who can point to the whereabouts of ASG members trapped in the said area.
Personnel of the Philippine National Police and the Armed Forces of the Philippines involved in the operations were also remunerated for their efforts.
A total of P4 million, as the president promised, was given through the AFP Central Command. The tipsters turned in information to the Special Investigation Task Group and Light Reaction Company after noticing foot trails leading to one of the caves.
Government troops attacked the caves and an encounter ensued that resulted in the death of Abu Alih and the recovery of his M16 rifle with an attached M203 grenade launcher.
An ASG member was also spotted buying bread in another part of town, giving the authorities an idea on the possible entry points of the rebel group's hideout.
The rebels hiding in Barangay Bacani were reportedly remnants of the 11-man ASG troop under sub-leader Moammar Askali — alias Abu Rami — who was killed on April 11 in Barangay Napo, Inabanga town.
Rami was responsible for the beheading of several hostages, including foreigners.
"Tip lang ang ibigay mo sa pulis pati military," President Duterte said, following Abu Rami's neutralization. "No questions asked. Do not even give your name. Sabihin mo lang saan sila at gobyerno na ang bahala."