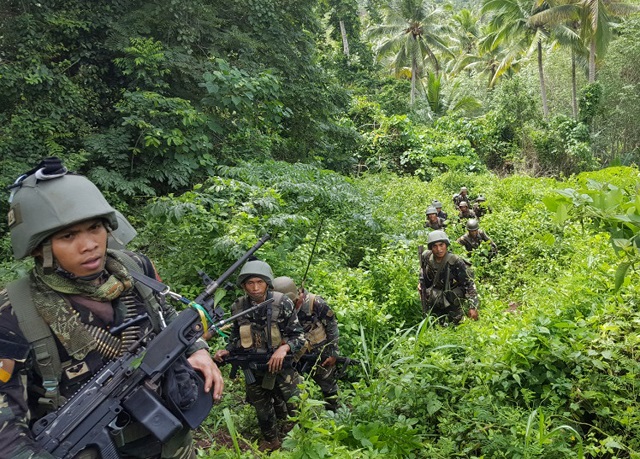 KOTA KINABALU - The Philippine military is continuing its operations against fleeing Abu Sayyaf gunmen, killing a militant known only as Imbo, a key man to the notorious Alhabsi Misaya who was killed in late April.
The Philippines Joint Task Force Sulu (JTFS) commander Brig-Gen Cirilito Sobejana Jr said Imbo was a key kidnap-for-ransom contact and facilitator keeper of Alhabsi's firearms and boats used in kidnapping from Bahalaw island off Jolo island in the Sulu province.
Imbo was killed during a clash with the Philippine military in Bahalaw last Friday, three days after they arrested another kidnapping suspect Saidul Idul, who is wanted by the Eastern Sabah Security Command (Esscom) for cross-border kidnappings.
Saidul, who was arrested in Sitan­gakai island that is close to Sabah's sea border, was involved in kidnapping in Sabah waters, Philippines officials said.
Saidul, whose real name is Sahi­dul Bandhala Jikiri, is believed to have provided boats and logistics for Abu Sayyaf kidnappers.
Brig-Gen Sobejana Jr told the media in the Philippines that the Abu Sayyaf group was now less capable of launching major at­­­tacks or cross-border kidnaps following intensified military operations against them.
Top Abu Sayyaf leaders like Alhabsi, his right-hand man Abu Rami, Commander Indang Susu­kan and Apo Mike were among dozens of gunmen who were either killed or arrested in the ongoing military operations against the group in their stronghold of Jolo.
To date, more than 80 gunmen have been killed and over 100 have surrendered since the military started its offensive in early Janua­ry.
Intelligence sources said that another notorious group – the Sawadjaan brothers – are among those still being hunted by the authorities.
Meanwhile, Sabah police extended the dusk-to-dawn sea curfew along the east coast of Sabah for another two weeks till June 7.
Sabah Police Commissioner Da­­tuk Ramli Din said the curfew was necessary as their investigations indicate that members of the cross-border kidnap groups linked to Abu Sayyaf were still a threat.
He said the 6pm-to-6am curfew in seven east coast districts in the state would ensure that the people in the Eastern Sabah Security Zone area remain safe.