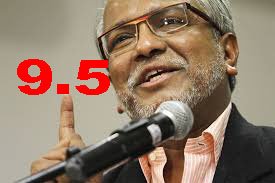 The Kuala Lumpur High Court has ordered the government to reply to Anwar Ibrahim's application to set aside his Sodomy II conviction following the allegation that Prime Minister Najib Abdul Razak paid RM9.5 million to the case's prosecutor Muhammad Shafee Abdullah.
The directive was given by Justice Kamaludin Md Said following case management today. Justice Kamaludin said the affidavit in reply to Anwar's application must be submitted by July 12.
According to Anwar's lawyer, Latheefa Koya, the judge also directed Muhammad Shafee, who was named by Anwar in the discovery application, to submit his application by July 19.
Justice Kamaludin fixed Aug 3 as the next case management date.
Senior federal counsel Nadia Hanim Tajuddin appeared for the government while Sarah Abishegam appeared for Muhammad Shafee. Najib was not represented.
Muhammad Shafee was appointed lead prosecutor by then attorney-general Abdul Gani Patail when Sodomy II reached the Court of Appeal and Federal Court stages.
Allegations of the RM9.5 million payment surfaced on whistleblower website Sarawak Report, which cited documents from Malaysian investigators.
Malaysiakini is unable to independently verify Sarawak Report's allegation. Both Najib and Muhammad Shafee have yet to respond to repeated requests for comment.
Following Sarawak Report's claim, Anwar filed a suit on June 9 naming the government as the defendant to set aside his conviction in light of the alleged RM9.5 million payment.
He also filed a discovery application last week seeking a court order for Najib and Shafee to reveal their financial statements in relation to the allegation.
Anwar wants both Najib and Shafee to reveal their bank account statements, between Aug 2013 and Oct 2013, and Jan 2014 to March 2014, especially in relation to the alleged payments on Sept 11, 2013, and Feb 17, 2014, respectively.