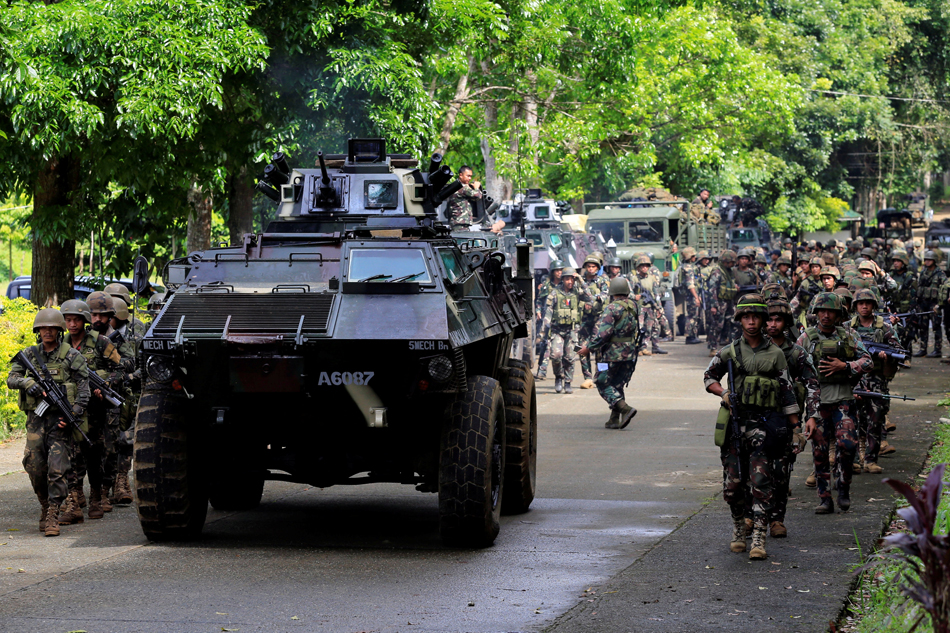 MANILA – At least 8 terrorists who were among those who attacked Marawi City have surrendered to government troops, a military official confirmed, the first time since the clashes erupted more than a week ago.
Armed Forces spokesperson Brigadier General Restituto Padilla said Brigadier General Custodio Parcon Jr. confirmed the surrender of the 8 terrorists.
"What we did get is from the unit of General (Custodio) Parcon, there were 8 members hold up in Marawi who surrendered to his forces," Padilla said in a press briefing in Malacañang.
According to Padilla, the terrorists "have been talked to and debriefed and have provided very, very valuable intelligence."
The death toll in the Marawi City crisis has risen to 129, with more terrorists killed as government forces pounded on the Southern city.
Presidential Spokesperson Ernesto Abella, citing information from the Armed Forces, said the number of terrorists killed as of 8 p.m. of May 30 was at 89. Of these, 42 were confirmed through body count and 47 through eye witness accounts.
The number of civilian casualties remain at 19, although Padilla said there is an ongoing validation of reports of other civilian deaths.
The casualties on the government side, meanwhile, is now at 21.
Padilla also assured that no civilian died during the air strikes by the military, emphasizing that the military was only using force "commensurate" to the resistance it faces.
Padilla also issued another appeal for the remaining terrorists to surrender, saying they have no other choice if they want to live.
"They are trapped. They are contained. They are in areas that they will never come out alive unless they surrender. And that's why we are asking them and we are appealing to these armed men to come to their senses, lay down their weapons and surrender," Padilla said.
"In this manner, we will be able to reduce the increasing cost of innocent lives as well as damage to property and at the same time further lessens the number of numerous crimes they have been committed," he added.
President Rodrigo Duterte last week placed Mindanao under martial law after government troops clashed with the Maute group and its cohorts in Marawi City.
The clashes erupted as state forces were trying to arrest Abu Sayyaf leader Isnilon Hapilon, considered one of the most wanted terrorists by the US. According to Padilla, Hapilon could still be in Marawi City.
Security experts say otherwise, saying that the government failed to detect terrorists' movement.