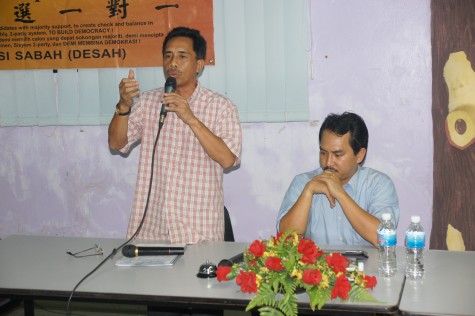 KOTA KINABALU - "The brave ones have taken the ultimate step to leave PBS and BN. For the rest of the PBS divisional leaders, the time has come for them to do some deep soul-searching and decide whether the time has come for them to ditch PBS and BN. The same goes for Upko, PBRS and other BN components in Sabah," said Edward Linggu, Deputy President of Parti Solidariti Tanah Airku in a press statement released today.
Edward, a former Assemblyman under PBS, said "sadly PBS is made irrelevant and a spent force, crushed by Umno's over-powering dominance and Malayan hegemony. It is no longer the fearless lion and dominant entity in Sabah politics. Its influence will further be reduced with the departure of our beloved Huguan Siou, Tan Sri Joseph Pairin Kitingan, from active politics."
The PBS divisional leaders should ask themselves whether to continue to be used as political donkeys by Umno to serve Umno's interests to take care of Malaya or to return to their original struggle to fight for and safeguard Sabah's rights and Sabahans' interests.
The despicable acts of the federal government to appoint Tan Sri Pairin to head the RCI Technical Committee and then do nothing to even consider the Committee's recommendations to solve the PTI and illegal immigrant problems in Sabah should be considered as the final nail in PBS' coffin.
The PBS divisional leaders should know better as even their appointments to be district and town councillors and other minor posts are difficult to be fulfilled and often blocked and taken up by Umno divisional leaders.
Under such restrictions and obstacles, it is almost impossible for PBS to fight for and defend Sabah's rights and the larger interests of Sabahans.
Even the rights of Sabah written in black and white in the Federal Constitution such as the return of the 40% net revenue derived from Sabah and other additional revenues like import and excise duties on petroleum products and export duties on crude oil to make up for the 10% shortfall in royalties are ignored.
The PBS leadership cannot even voice their stand for the return of the 40% net revenue let alone seeking its compliance in accordance with the Federal Constitution. This muted silence like their stand on the RCI speaks volumes of PBS and other non-Umno components' inability to safeguard Sabah's rights even if they are provided in the Federal Constitution.
Even the people constituents in PBS and other non-Umno components are marginalized compared to Umno-held constituencies in terms of development, infrastructure and allocation of funds. So much so, funds for developments and projects under their constituencies, not just appointments to divisional government positions, are under the control of the Umno division chiefs.
In Umno areas, many roads are sealed and better supplied with water and other basic amenities but in non-Umno areas, the people have to suffer daily grind with gravel and muddy roads, drink gravity-fed or rainwater with some students have to study under lamps or under poorly supplied electricity conditions.
No intention is intended to belittle our fellow Sabah leaders but just stating the obvious reality. This can be attested by the numerous occasions, PBS and Upko having to call for Umno to genuinely share power in Sabah.
However, all is not lost for these PBS and other non-Umno divisional leaders.
Under a STAR/Gabungan Sabah government, Sabah will be divided into 7 regions, each comprising at least 3 to 4 Parliamentary constituencies and 8 to 10 State constituencies. Each region will be headed and administered by a Regional Governor (Gabenor Wilayah) and a Regional Council (Council Wilayah). The scope and responsibility of each Regional Councillor is bigger than that of a State Assemblyperson.
These Regions will be equivalent to the 11 States in Malaya and will be entrusted to plan and implement the development of each Region. It will trigger a revolutionary change and hasten the development and progress of Sabah.
The revolutionary change is bigger and more meaningful than a regime change to merely change of government or to substitute the Chief Minister as propounded by some other parties. Look out for further details when the revolutionary change is rolled out.
The STAR/Gabungan Sabah-led Sabah government will see to the compliance by the Federal government in returning the 40% net revenue, of more than RM20 billion, and other additional revenues, of RM4 billion to RM5 billion, annually to Sabah for the development of Sabah and betterment of Sabahans as provided in the Federal Constitution.
"No Sabahan, regardless of race, religion or ethnicity will be left behind" added Edward.
It is obvious that the current Umno-led Sabah government are political buffaloes and will not and dare not demand for the return of the RM25 billion, 40% net revenue entitlement and other additional revenues.
If after the soul-searching, the PBS and other non-Umno divisional leaders decide to leave BN, the doors of STAR are always open to welcome them.
In fact, we welcome them to participate actively in the new Sabah and Regional governments and contribute to the progress and development of Sabah unlike now where most of them cannot even be appointed as councillors. We cannot rely or expect Umno Sabah ruled by Umno Malaya or outsiders to take full care of Sabah, but ourselves and we need to chart our own future and destiny.