THREE teams have emerged in support of the three top contenders for Umno's presidency, but there is talk of a pact being formed between two of the three hopefuls.
The talk came about after former Youth chief Khairy Jamaluddin, 42, announced his nomination for the presidential post a day after party veteran Tengku Razaleigh Hamzah, on the second day of Hari Raya Aidilfitri, said he would contest the post in the June 30 election.
Khairy 's announcement is seen as a major upset not only among party veterans but also youth leaders, leading to the assumption that he has "formed" a pact with acting president Datuk Seri Dr Ahmad Zahid Hamidi, 65, the third contender.
Khairy wants to be seen as Umno's saviour. However, he will only be seen as a typical millennial — depicting the generation's overambitious qualities, sense of entitlement and narcissism.
He has been asked to withdraw from contesting by those in the know of his intent, especially as he was the one who asked Tengku Razaleigh to contest.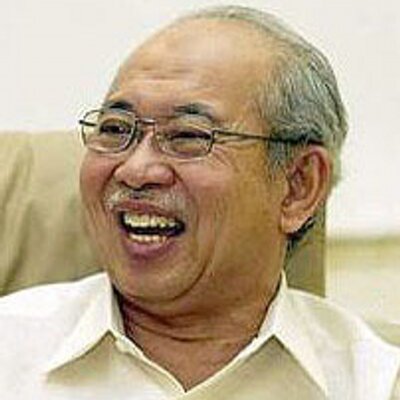 Ku Li
"Yes, it is true that Khairy went to see Tengku Razaleigh at Langgak Golf," a source said, confirming the New Straits Times' commentary last Friday.
"And yes, he was in near tears pleading with Tengku Razaleigh to contest the top post."
The meeting, which the source described as "emotional", was also attended by six other senior party leaders — Umno liaison committee chairmen of Negri Sembilan, Johor and Selangor Datuk Seri Mohamad Hasan, Datuk Seri Mohamed Khaled Nordin and Tan Sri Noh Omar, respectively; Titiwangsa Umno head Datuk Seri Johari Abdul Ghani; Kepala Batas member of parliament Datuk Seri Reezal Merican Naina Merican and Larut member of parliament Datuk Hamzah Zainudin.
"It was a critical moment for Tengku Razaleigh at that time. It was either a go or no-go from him to contest. When Khairy pledged not only his support, but also the Youth's, that pushed Tengku Razaleigh's confidence further," the source said.
"If he (Tengku Razaleigh) had known that Khairy was going to contest, he would not have put in his name."
It is understood that those who attended the meeting and some Youth leaders, including Khairy's loyalists, are upset about his move.
Another source said Khairy was playing the field, claiming that the former Youth chief was not in the race of his own accord, but was asked to do so in exchange for an appointed post in the party.
"He wants to be party president but knows (he cannot defeat)
Zahid.
"If he goes in without a third contender, he will be finished politically.
But if he goes in with the 'blessing' of Zahid, and if Zahid wins, Khairy will benefit from it."
It is learnt that Zahid has offered Khairy an appointed post in the party either as secretary-general or information chief if he can bring Youth votes for the former.
However, a Selangor Youth leader claimed that Khairy had lost the trust and confidence of Youth members.
And he is not alone in saying this. Many youth leaders have told NST the same thing.
"Even Khairy 's most loyal men have openly pledged their support for Tengku Razaleigh. They are angry and upset after discovering why he is contesting the presidency.
"Imagine this. Your leader continuously talks about change, the need for a new face and voices his support for Tengku Razaleigh to contest the presidency, but suddenly he decides to go against the person he 'supports'. How do you think we would feel? Of course we are upset. We feel betrayed," the Selangor Youth leader said.
He said party veterans doubted Khairy 's abilities as he did not have a proven track record as Youth chief and cabinet minister.
Even in the 14th General Election, only three Youth candidates won — Khairy (Rembau seat), Mohd Shahar Abdullah (Paya Besar) and Yamani Hafez Musa (Shah Sipitang).
A Negri Sembilan Youth leader, who is a Khairy loyalist, pledged support for Tengku Razaleigh, claiming that as the election drew near, more people could see Khairy's true colours.
He said Khairy's manifesto promises were a game to rile up not only party members, but also the public.
"He is taking a populist approach, talking about eliminating money politics, removing warlords from the party and adding two more vice-president posts to get Wanita (Umno) votes and those (members) from Sabah.
"He is not the first and last person who wants to eliminate money politics and warlords. Everyone wants that to change, but for him to overdo this, it can leave Umno in shambles if he loses."
He said Khairy would be seen as the "gracious leader", the "one who tried to change Umno, but it is Umno who does not want to be changed".
"Umno's rejection of Khairy will be seen as a rejection of reforms ."
Another Selangor Youth leader concurred, saying that Umno's image would be tarnished as Khairy was not only considered popular within the party, but also among the public.
Umno members are talking about a split in the party in this election, with the possibility of a new party being formed if Khairy loses.
Zahid, who has been labelled by some Umno leaders as "Godfather", is said to have the support of 70-odd divisions, mainly those who are "indebted" to him. However, this number is based on pre-wing polls last Saturday.
Besides current Umno leaders, little to none have voiced support for Zahid. However, political pundits have not excluded him from the race totally as Umno delegates can be swayed on sentimental reasons.
"In Umno, you never know what can happen. They may go on and on about the candidate they support but change (their mind) at the last minute. The table is still open as far as I am concerned," a political pundit said.
Another said the results could be determined by Wanita members as they were the biggest in terms of numbers.
"We do not know what the women want, and this is the determining factor for the party. We have to remember that only qualified delegates can vote. This is not based on popular perception."
In this race for political relevancy, the candidate who has nothing to lose is Tengku Razaleigh. If anything, it may be his last hurrah. As for Zahid and Khairy, losing the presidency may end their careers in Umno, if not politics. It is only logical for the two to conspire for their own political survival. They have a lot riding on this and will not give it up easily.
The stage is set for Umno on June 30. The main cast — Tengku Razaleigh, Khairy and Zahid — will be ready.

By Tasnim Lokman NST