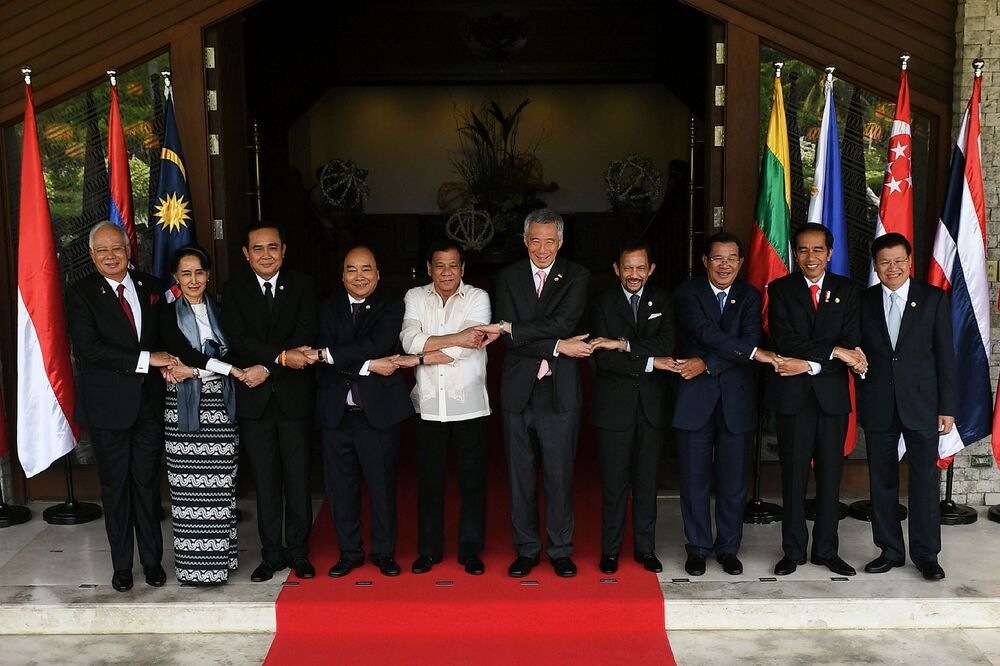 China won approval from Southeast Asian leaders on Saturday at a meeting where U.S. allies in Asia have previously criticized Beijing over its actions in disputed maritime territory.
The Association of Southeast Asian Nations, which has enjoyed an upswing in relations with China for some time, ended a summit in Manila with a statement noting "the improving cooperation between Asean and China" in the South China Sea.
The leaders also welcomed "progress to complete a framework of the Code of Conduct in the South China Sea" by the middle of this year, and recognized "the long-term benefits" of peace, stability and sustainable development in the region.
The leaders' avoided mention of sensitive issues such as land reclamation or militarization, or last year's ruling by an international court that rejected China's claims to more than 80 percent of the South China Sea in a case brought by the Philippines under the administration of former president Benigno Aquino.
For an explainer on China's maritime push, click here
China's efforts to assert its dominance over the South China Sea, one of the world's busiest shipping lanes that carries more than $5 trillion in annual trade, have in the past angered Southeast Asian nations with competing claims such as Vietnam and the Philippines. The waterway has become a flash-point in a broader tussle for regional influence between China and the U.S. in Asia.
Speaking after the meeting, Philippines President and current Asean chairman Rodrigo Duterte said China's recent actions in the South China Sea were not discussed at the leaders' meeting on Saturday, describing any talks on the issue as "useless."
"The biggest victor in diplomacy in this summit is China," Lauro Baja, former Philippine foreign affairs undersecretary, said on Saturday. "Asean seems to feel and act under the shadows of China."
"China is engaging Asean in a very successful diplomatic position," Baja said. "Asean considers what China feels, what China thinks and how China will act in its decisions."
Before the summit, Duterte told reporters that arguments between the Philippines and China over disputed maritime territory were not an issue for Asean. A Philippine delegation is due to travel to China in May to discuss issues related to the South China Sea.
"Closer relations with China has lent itself to a more cohesive Asean and promises to prevent war and escalated conflict in our part of the world," Wilfrido Villacorta, a former Philippine Ambassador to Asean and also a former Deputy Secretary-General of Asean, said in an email Saturday.
"President Duterte's inclusive foreign policy has significantly transformed the security architecture and balance of power in Southeast Asia." ....
- Bloomberg