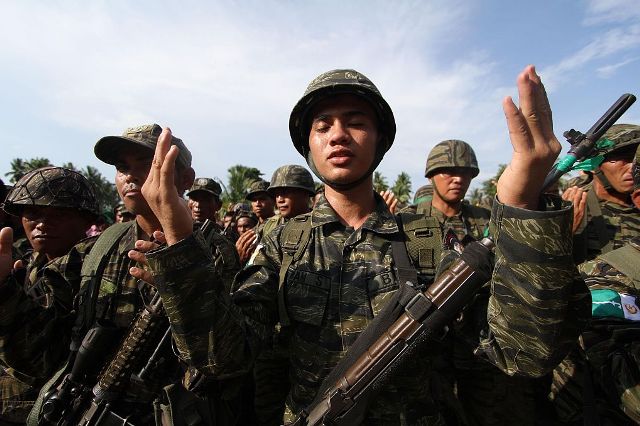 MANILA, Philippines - The government and the Moro Islamic Liberation Front have signed the terms of reference (TOR) for the Joint Task Forces on MILF camps (JTFC) transformation.
Under the Annex on Normalization of the Bangsamoro Basic Law (BBL), the JTFC shall be formed to transform six previously acknowledged MILF camps into peaceful communities and bring back normalcy to the lives of former rebels.
The government and the MILF peace panels signed the TOR following a two-day meeting on the BBL in Kuala Lumpur, Malaysia early this week.
Government panel chair Miriam Coronel-Ferrer and MILF and Bangsamoro Transition Commission chairman Mohagher Iqbal said the BBL Annex on Normalization provides for confidence-building measures that may be undertaken through the joint task forces.
"There shall be joint task forces for each of the six previously acknowledged MILF camps and their work shall be coordinated and supervised by four coordinators – two each from the government and the MILF," the TOR, posted on the website of the Office of the Presidential Adviser on the Peace Process, stated.
The tasks of coordinators include the provision of overall leadership and direction for the transformation of the former MILF camps into peaceful and productive communities.
Four coordinators shall be tasked to coordinate and give logistical support for the work of the JTFC in each camp, the two panels said.
They are also tasked to establish protocols in camp development and tap necessary government agencies, development partners, non-governmental organizations, private sector and local government units for the implementation of programs/projects.
The government and MILF panels may amend the TOR "after the necessary review to meet changing conditions."
Ferrer and Iqbal signed the TOR in the presence of Malaysian facilitator Tengku Dato' Ab Ghafar Tengku Mohamed.
'Breathing room'
Meanwhile, Malacañang welcomed yesterday the "breathing room" for the peace process between the government and the MILF despite the failure of Congress to pass the BBL.
The two panels have agreed to extend the ceasefire until March 2017.
"The pledge to keep commitment to the peace process would give breathing room for the peace process to continue under the next administration," Presidential Communications Development and Strategic Planning Office Undersecretary Manuel Quezon III said.
Quezon cited the peace process as an important deterrent to security threats and terrorism.
"It is not in the interest of any side – not the government and not the groups involved in the peace process. No one wins in a war, not the government and not our Moro brothers," he said over dzRB.
Security officials who asked not to be identified also said the ceasefire agreement between the government and the MILF should go beyond 2017 as renewed hostilities would likely force a number of foreign and local investors to stop doing business in Mindanao.
By Jose Rodel Clapano