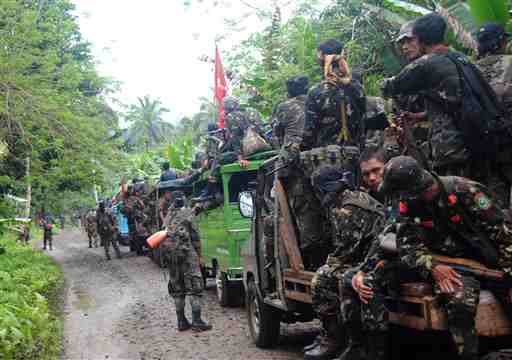 Seven Abu Sayyaf gunmen and one soldier were killed while 23 others were wounded as fresh fighting erupted between government troops and the Al Qaeda-linked terror group in Sulu Friday.
Brig. Gen. Alan Arrojado, commander, Joint Task Group Sulu (JTGS), said among the wounded were Abu Sayyaf ASG (ASG) chieftain Radullan Sahiron.
The US State Department has issued a $1 million bounty for Sahiron who has been linked to a string of kidnaping cases, including an American missionary couple in 2001 and three Red Cross members of staff in 2009.
Arrojado said the encounter broke out around 9:15 a.m. at Barangay Panglayahan, Patikul town.
According to the JTGS commander, government troops from the 10IB were conducting operations in the area when they were engaged approximately 100 Abu Sayyan men under Sahiron.
The firefight, which lasted until 10:40 a.m., left one soldier dead and 17 others wounded from the government side, while the ASG reportedly suffered seven dead and six wounded.
Aside from Sahiron, the military also identified Asari Sajail and Almujer Yada as among the wounded extremists.
Arrojado said the Tactical Operations Squadron (TOS) Jolo immediately provided two Huey helicopters to evacuate the military casualties around 2:00 p.m.
He also directed adjacent units to provide reinforcement to the engaged troops.

by Elena L. Aben