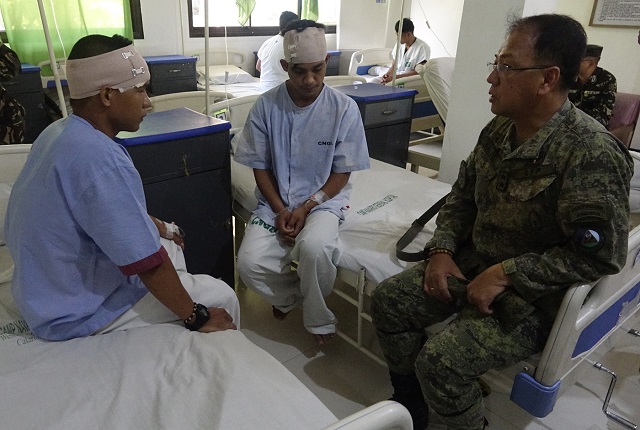 ZAMBOANGA CITY, Philippines — More than 10 Abu Sayyaf militants were killed and 32 soldiers were wounded in a fierce encounter Sunday in Talipao town, Sulu.
An Army battalion commander and 31 of his troopers were injured in a clashed with around 100 Abu Sayyaf followers of Radullan Sahiron, Hatib Hajan Sawadjaan and Almujer Yadah.
Maj. Gen. Carlito Galvez Jr., Western Mindanao Command (Westmincom) chief, said the encounter erupted about 9:30 a.m. on Sunday when the 41st Infantry Battalion led by Lt. Col. William George Cordova attacked the militants in the mountain of Barangay Laos.
Galvez said Cordova and his soldiers launched the operation following tips on the presence of the Abu Sayyaf and their Indonesian and Vietnamese kidnap victims.
He said the Abu Sayyaf were on higher ground during the encounter.
Galvez said four soldiers were wounded in the firefight, which lasted for more than an hour. Another 28 soldiers were hurt by shrapnel from M203 rounds fired by the Abu Sayyaf group.
Lt. Col. Cordova and 1Lt. Joe Mari Landicho, who were among the 22 soldiers with slight injuries due to the grenade blasts, and six others who also sustained minor bullet wounds were brought to the military station hospital at Camp Teodulfo Bautista in Jolo.
Galvez said four others — Privates First Class Ryan Maymaya, Freddie Anggaco and Bobbyn Pacas and Pvt. Eugene Pagat — were airlifted to the Camp Navarro General Hospital in this city for further treatment.
PFC Pacas was hit in the head and was described as being in unstable condition.
"Considering the enemies were in a better position and the fighting was close, we were able to maximize the firing of 105mm howitzer," Galvez said.
'Meeting engagement'
The military said the Abu Sayyaf were in position on higher ground as the troops moved in, a situation that Galvez described as a meeting engagement.
He said the soldiers managed to use trees as cover and avoid M203 grenade fire from the Abu Sayyaf positions.
"Talagang ganoon ang tactics ng mga kalaban, kaya we wanted to counter that at hindi sila basta maka-fire ng M203 because of the trees," he said.
He added fire support from a 105mm howitzer was limited to four rounds because the soldiers were too close to the Abu Sayyaf positions.
"We can assure you more than 10 were killed from the enemies based on the accounts of the ground troops," Galvez said.
During a lull in the fighting, soldiers scoured abandoned Abu Sayyaf positions and "discovered mangled bodies and scattered remains and bloodied coconut palms and banana leaves utilized by the enemies as stretchers in retrieving their casualties after they were directly hit by the 105mm howitzer," Galvez said.
He said the Abu Sayyaf group is now on the run and Joint Task Force Sulu, led by Brig. Gen. Cirilito Sobejana, has mobilized 5 battalions in the area to block the escaping militants.
He said the operations will continue to rescue the remaining 28 hostages still held by the Abu Sayyaf group. -
Philstar