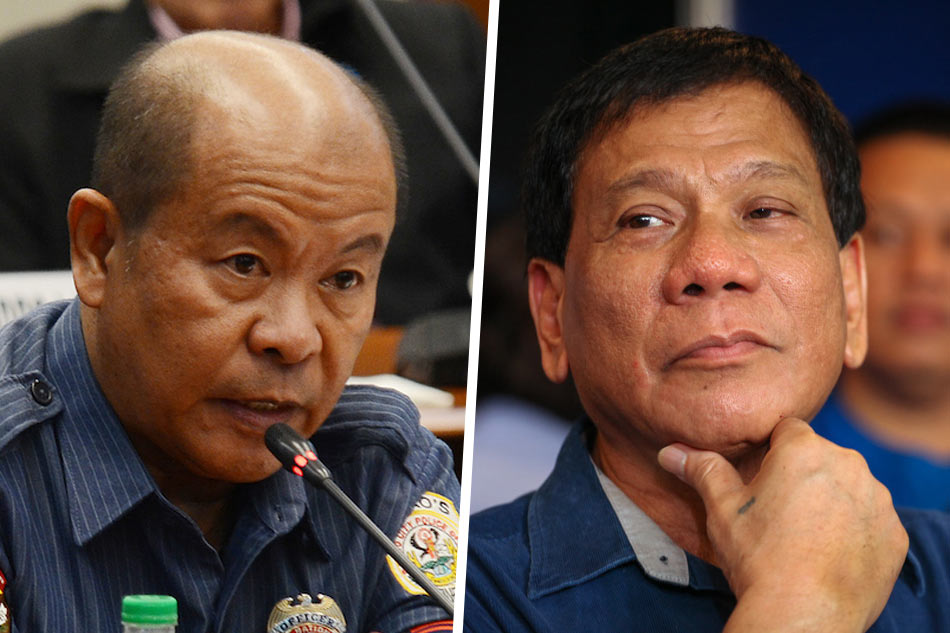 Now in a safe house, a former police officer fears for his life after allegedly exposing Rodrigo Duterte's role in extrajudicial killings when mayor of Davao
"Throw them in the ocean or the quarry. Make it clean. Make sure there are no traces of the bodies."
The words are shocking. That they allegedly came from the man who is now president of the Philippines makes them explosive. It is claimed that Rodrigo Duterte gave the orders to his first death squad in Davao, in the southern island of Mindanao, in 1989 when he was '"mayor Rudy".
Arturo Lascanas, a retired police officer, made the accusations of Duterte's campaign of extrajudicial killings under oath to the country's senate last month, and he repeats them to the Observer with an air of uneasy calm, with the resolve of a man who has carried these secrets for decades. "We were the first hit squad during his reign," claims Lascanas, from the safe house in Manila where he is hiding from his own president.
Inside the house, with curtains drawn and the military men guarding the door, there is a sense the ordeal could turn ugly at any moment, that Lascanas expects to die for what he has divulged.
After more than 20 years as mayor of Davao, Duterte won the presidential election last May with promises to rid the country of drugs and crime, to kill every drug dealer and user, and to feed their corpses to the fish in Manila Bay.
On the back of his claims of having established law and order in Davao, Duterte, 72, was seen as a strong man, a saviour and an antidote to the "narco" state the Philippines had apparently spiralled into.
But behind the bluster the statistics don't lie: Davao still has the highest murder rate in the country and the second highest number of rapes, according to national police data for 2010-15. Yet the drug threat has become so deeply entrenched in the Philippine psyche that the normalisation of the mass murder of traffickers and dealers appears to be setting in.
The death toll of the president's drug war in the nine months since he took office at the end of June has topped more than 2,500 killings by police and 3,600 by vigilantes. Agencies including Amnesty quote a total figure of more than 7,000 dead. But many Filipinos gloss over the killings and Duterte's poll ratings remain high.
"The streets are much safer now," many in the capital will tell you. "Here in the Philippines we need a ruler with an iron fist."
Some, in confidence, express a sense of hopelessness over the deaths and the way Filipinos, even their own family members, have suddenly become so bloodthirsty. But for those who don't live in or have any connection to the poor areas – where overwhelming numbers of the killings have occurred – it is easy enough to adopt a begrudging acceptance. After a while, the dead are just a growing number.
Allegations of a Davao death squad (DDS) have for years been dismissed. Last September a confessed former hitman, Edgar Matobato, testified to the senate, implicating Duterte and his son in the killings of alleged drug traffickers, dealers and criminals but there has never been indisputable evidence, or a paper trail, much less any purported leaders willing to testify.
That is until Lascanas came along. The 56-year-old retired officer initially went on the record to deny the existence of the DDS but after undergoing kidney surgery (allegedly paid for by Duterte) in 2015, he says he experienced a spiritual awakening. He started consulting the nuns of Davao and then decided, regardless of the consequences, to tell the story of his president's deeds.
"The only way out of this evil environment is to tell the truth," Lascanas tells the Observer from his sparsely furnished room. "I want to make sure there will be no more condemnation for my generations to come, for what I did – what we did – for my children and their children, and their children."
Last month he recanted earlier testimony, telling the Philippine senate in a six-hour televised hearing that the DDS was indeed real – formed at the behest of mayor Duterte with the express purpose of carrying out state-sanctioned murder.
The retired officer says he lied at first because he feared for his life, and the safety of his family, but later realised he could not take his "evil side" to the grave.
Lascanas, who claims he was a former DDS leader and personally killed "about 200 people", told the senate the squad was formed under the guise of an anti-crime unit within the Davao police. The team was, he says, given the task of eliminating hardened criminals, and later political opponents and journalists critical of Duterte's rule. The DDS, he alleged, regularly took direct orders from mayor Duterte about who to kill and how to dispose of the bodies. Lascanas claims those shocking words – "Throw them in the ocean or in the quarry. Bury them. Make sure there are no traces of the bodies" – were spoken by Duterte at one of dozens of alleged meetings with the DDS. The police hit squad was paid based on the "value" of the targets, he says.
For the most part, in his more than three decades of service, Lascanas admits, he was "blindly loyal" to the cause, and saw his work as a "noble" form of public service. "We were risking our lives for the welfare of the majority of the people," he says. "I felt that I was serving the country for the greater good."
Lascanas joined the Davao police when he was 21. Eight years later, he says, he became one of the youngest members of the DDS. He is the kind of person who remembers details – when asked how long he has been a policeman he answered precisely: "For 34 years and eight months."
He tells of one particular incident that has given him nightmares for years: in 1996 Lascanas and his team were ordered to kill an alleged criminal, his pregnant wife and his four-year-old son, who were all in the same vehicle at the time. "I attempted to rescue the four-year-old boy," claims Lascanas, grimacing. "But according to our team leader since the boy ... had seen our faces, he could recognise us in years from now and identify us."
It was on the personal order of Duterte, he claims, that they disposed of the family. "Mayor Rudy approved the recommendation of our task force commander, in front of us. To erase – meaning to kill – everyone," he says with uneasy calm. "That was his specific order. That he's OK [with it] provided it would be clean."
As the most junior of the group, Lascanas did not pull the trigger that time. Instead, he says, he helped to drag the corpses and throw them into a common grave at the Maa gravel quarry. Later, as the years went by, he would also come to kill the suspects. You had to, he says, to be accepted into the DDS fraternity. "That was one of the qualifications to be in the death squad," he says. "We were proving our worth." It was that same blind allegiance that led him to make the "grim and painful" decision to have his own two brothers killed after they were accused of trafficking drugs.
Even as the international community looks on in horror at the thousands of killings, Duterte remains immensely popular at home – at least according to the polls. With his litany of brazen comments, insults of global leaders and even rape jokes, the Philippine leader has fashioned himself into an uncouth straight-talker railing against the political establishment.
Analysts say the Lascanas revelations are unlikely to dent the president's popularity. "Duterte won't be challenged politically because of the war against drugs or the extrajudicial killings," says Antonio La ña, political analyst and professor of constitutional law at the University of the Philippines. "He will be challenged if there are economic consequences to the killings, or other things that he is doing that could see him perceived as irrational and unpredictable."
While the scale is new, extrajudicial killings in the Philippines are not, and the DDS has long been seen as an open, unproven secret. So when Filipinos voted for Duterte, they did so in spite of his purported ties to orchestrated murder, something even he has apparently admitted. "Am I the death squad? True. That is true," Duterte told local television in May 2015, a year before he was elected head of state.
Since the vote, Duterte staffers have instructed journalists not to take the president's statements too literally, including when Duterte admitted to having a penchant for carrying out killings himself. Last December, Duterte told a group of businessmen: "In Davao I used to do it personally. Just to show to the guys [police] that if I can do it why can't you. And I'd go around in Davao with a motorcycle, with a big bike, and I would just patrol the streets looking for trouble also. I was really looking for a confrontation so that I could kill."
Duterte's statements have been so outlandish at times that journalists in the Philippines are not quite sure how to take him. Does he mean it, for example, when he talks about introducing martial law? "I think he is serious," says La Viña. "I don't think he has a plan, but he's impulsive. He will act on instinct."
Alongside Duterte's war on drugs there is also a battle for the truth about what is really going on. When, following the release of its damning report last month, Human Rights Watch said Duterte may be guilty of crimes against humanity for inciting a wave of extrajudicial killings, the president's response was that "criminals don't have any humanity", so killing them is not a crime.
But the Duterte government has vehemently and repeatedly denied claims of police death squads, both in Davao and in the current war on drugs. The national police chief, Ronald Dela Rosa, has previously described the DDS as "a creation of the media", while in recent weeks he has lambasted the press for "sensationalising" the number of extrajudicial killings.
Is impeachment
a possibility?
As far as opposition senator Antonio Trillanes is concerned, Duterte's death squad problem is not going away – in fact, he is doing his best to make sure it doesn't. With his ties to the military, Trillanes is coordinating the protection of Lascanas, and says he is facilitating at least four other supposed DDS members to come forward in the coming months.
Trillanes, a former navy lieutenant, was jailed for seven-and-a-half years for leading the 2003 Oakwood mutiny, when he and some 300 junior officers and enlisted men took over the Oakwood towers in Makati (Manila's business district) as protest for alleged rampant corruption in the government of then president Gloria Macapagal Arroyo. He subsequently won a senate seat in 2007 while incarcerated. He says he is on a mission to have Duterte impeached. It was an ally of Trillanes who filed an impeachment complaint in the Philippine House of Representatives last month. The House, now in recess, will reconvene on 2 May.
That is, he believes, enough time for the "game-changing" details of the DDS to trickle down and sway public opinion. "There is a consensus that they [the revelations] are quite different. To kill criminals is one thing, but knowing that Duterte killed, or ordered to be killed a four-year-old child and a pregnant woman, is an entirely different matter. That changes the narrative."
Yet the chances of Duterte being impeached in the coming months, while not impossible, are unlikely. It would require at least 100 votes in the house and two-thirds in the senate.
Trillanes – who is now the loudest voice of opposition after the recent detention of another senator, Leila de Lima, on controversial charges over her alleged involvement in illegal drugs – is perceived as a lone wolf, even though he is one of six opposition senators. But he argues that the internal dynamics of the 24-seat senate belie perceptions, pointing to the case of former president Joseph Estrada, also deeply popular and ultimately impeached over allegations of corruption in 2001.
Analysts such as La Viña describe Duterte's current political support as overwhelming, but also superficial. "There is no loyalty there," he says. "It's all in their interests to support him [Duterte]. The moment it is no longer in their interests, 90% would abandon him. That includes both the senate and the house."
In an indication of how the mood has shifted since Duterte's inauguration, a December poll by the local Social Weather Stations institute showed that while the drug war remains very popular, 78% of those surveyed admitted they were scared they, or someone they know, could be killed in a drug-related crackdown.
Back in his safe house, Lascanas says he is under no illusions about what is going on. "What happened here in Manila is the same as in Davao, the same," he says. "The manner of killing – riding in tandem [motorbike killings], packing tape, leaving some cardboard, stabbings. And then the manner of the police investigation, how they conduct it, they just term it 'death under investigation'."
In the early months of President Duterte's war on drugs, hundreds of bodies were found in the streets with their heads wrapped in masking tape, next to cardboard signs labelling them drug pushers, users or rapists – exactly as happened in Davao under mayor Duterte.
"Sometimes we kidnapped our subject and put the packing tape on their head until they suffocated, and then we would throw them in the street," recalled Lascanas. "Sometimes we would leave the cardboard. It would say in Tagalog, huwag tularan, which means, 'don't be like him'."
There was a short pause in the drug war in January – following the killing of a South Korean businessman at the national police headquarters by officers who later extorted ransom money from his family under the pretence that he was alive – but it restarted in last month under "Operation Double Barrel Reloaded".
The killings are continuing, albeit at a much slower pace – 69 people were killed in police operations in March, compared with high hundreds in the early months of the crackdown.
Lascanas knows he is the most wanted man in the country now for what he has claimed. He spends his days reading the New Testament, and praying for salvation and that his family won't be harmed.
"I know him [Duterte] and I know the capacity of my companions inside our group, and I hope they will not hurt my family. Me, I am very much ready, I have done what I wanted ... I am free now," he says.
As his minders try to wind up the interview, Lascanas is not quite finished, there is something else he needs to say: "I don't think the president is free because of what he has done. He tries to deny it to himself – that is he is not mortal, like me, or like the victims of extrajudicial killings. He assumes he has the divine dominion of God, but he forgot that he is mortal too. He's not free." -
The Guardian