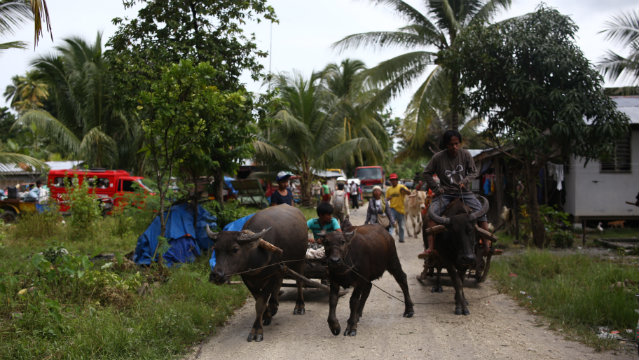 KIDAPAWAN CITY - At least six members of the Bangsamoro Islamic Freedom Fighters (BIFF) were killed in action while eight others were wounded during the clash that took place in Barangay Malagakit, Pigcawayan, Cotabato on Wednesday, a top military official said.
Captain Napoleon (Nap) Alcarioto, spokesperson of the 602nd Brigade of the Philippine Army based in Carmen, North Cotabato, said rescued civilians told the military that the dead bodies were fetched by BIFF rebels who fled on board a motorized banca traversing the Liguasan Marsh in the northern area.
Quoting civilians, Alcarioto said there were eight BIFF members who were wounded during the intense gun battle which lasted until 6 p.m. on Wednesday evening.
"We are basing our claim from the eye accounts of civilians being trapped and held hostage inside the Malagakit Elementary School, who were later rescued by our 34th Infantry Battalion forces," Alcarioto said in a mobile phone interview.
The military official also said blood stains found at the Malagakit Elementary School were proof that there were BIFF members who were possibly killed and wounded in the firefight.
Alcarioto said he is confident that there were fatalities and injuries during the gun fight since government troops bombed the area using mortars and cannons.
The military spokesperson also confirmed that two members of the Civilian Armed Forces Geographical Unit (CAFGU) were wounded during the exchange of gunfire.
Meantime, civilians have been prohibited to return to their respective homes as bomb experts conduct clearing operations following reports that the BIFF planted improvised explosive devices (IEDs) in Barangay Malagakit.
"We don't recommend to civilians to go home as IEDs planted by the rebels are proliferating in Barangay Malagakit. The bomb experts are still in the area doing clearing operations," Alcarioto explained.
Classes in all levels in Pigcawayan and Midsayap towns remain suspended Thursday as pursuit operations against the BIFF rebels are ongoing particularly within the tri-boundaries of Pigcawayan-Midsayap-Northern Kabuntalan in Maguindanao area.
According to Alcarioto, these areas serve as escape route of about 300 fleeing BIFF members following attacks in the North Cotabato town. —KG, GMA News