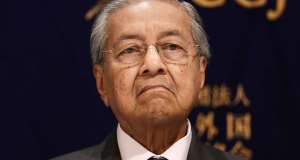 KOTA KINABALU - Sabah PKR Youth chief Raymond Ahuar has disagreed with his deputy over Dr Mahathir Mohamad's call for Malay-based parties to unite under PPBM, saying PKR should reject race-based politics and focus on rebuilding the nation through racial unity.
Ahuar said he was taken aback by Hilman Idham's comment that uniting Malay-based parties could become a new political model to guarantee the people's well-being and the nation's prosperity.
"Malay politics is to take care of Malays' welfare," he said.
Raymond Ahuar
"Economic success can only be achieved if the country's multiracial society works together instead of working only for the good of one race."
As a Sabahan, he said, he did not view Mahathir's proposal in the same light as Hilman.
"For me, the country will succeed only if all the people, regardless of race, are united."
He said PKR members are taught to be fair, to promote unity and to uphold all races in building the nation.
"I don't see the need for Hilman's statement," he added.