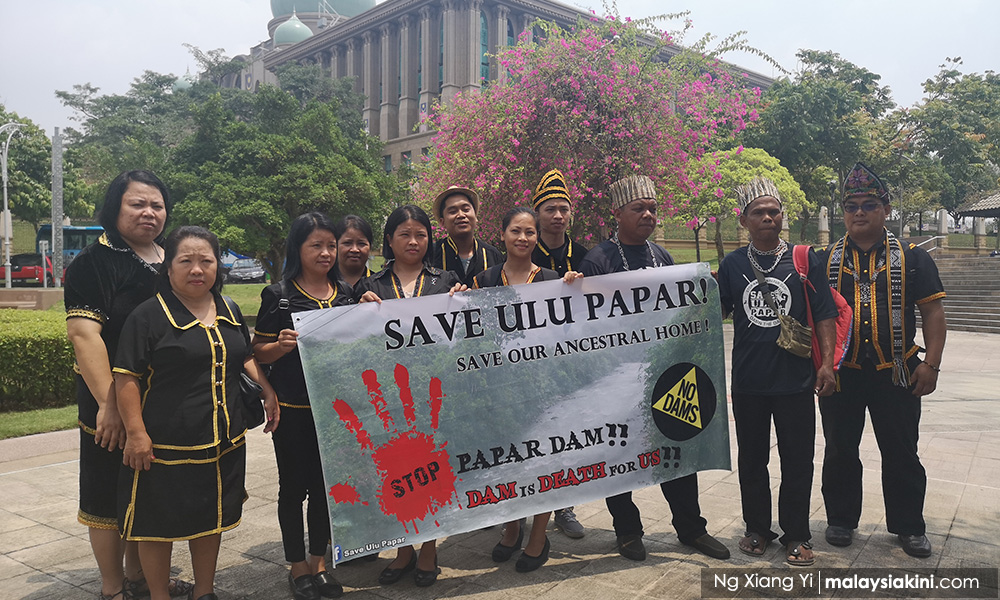 COMMENT |
Nine community members from the Ulu Papar area have travelled to KL in an effort mobilise West Malaysians to stop the newly proposed Papar Dam in Sabah.
If this dam is built, around 12 villages will be submerged, affecting more than 3,000 villagers living in and around the interior. The Sabahans are part of the Task Force Against Kaiduan Dam who believe that the new Papar Dam is a rehashed Kaiduan Dam proposed by the previous BN government and had been opposed by Pakatan Harapan before the last general election.
The communities strongly oppose the building of Papar Dam for it not only destroys the rich biodiversity as Ulu Papar is part of the Unesco Crocker Range Biosphere Reserve, but it also destroys the livelihood of the communities who have been living there for generations.
The Sabah state government has been saying that the dam is needed to supply water for people in Kota Kinabalu and to generate electricity at 100 kilovolt-ampere (kvA). Sabah Chief Minister Mohd Shafie Apdal had said it was the Kaiduan dam project, approved previously under the BN government, which was cancelled by the new state government led by Parti Warisan Sabah because of opposition from many parties including the local community.
The state finance minister said that it was crucial to build a dam in Kampung Bisuang as there would not be enough water supply to accommodate the growth in the west coast if necessary measures were not taken now.
The state government has decided to build the controversial Papar dam at a new site adjacent to Kampung Mandoringin in Ulu Papar.
State Infrastructure Development Minister Peter Anthony said the dam would also be used to generate 100kvA power that can accommodate the needs of people from Papar to Kota Kinabalu.
He said the project was estimated to cost about RM3 billion and the state government would take a soft loan from the federal government to finance the project.
Ample water catchments on the west coast of Sabah
University Malaysia Sabah Professor Felix Tongkul has provided a better sustainable alternative to this Papar/Kaiduan dam proposal. He pointed out that if the rich water catchments along Sabah's west coast of Sg Tuaran, Moyog and Papar were carefully preserved, there would be ample water for the people in the downstream towns and cities.
Felix proposed for water storage reservoirs along these rivers and even coastal reservoirs, and there would be no need for any mega-dam.
Water catchments filter and clean water as well as act as a sponge to preserve water. However, they need protection from deforestation and plantation clearing. Thus, the government has to decide which is the more rational choice, namely, destructive dams and deforested hills or well-protected water catchments that ensure long-term water sources and preserve traditional communities.
What we have witnessed in recent years is the wanton destruction of precious water catchments for plantations and other "development". It is an indication of the lack of an overall assessment of the forests, rivers and land resources in the state to determine sustainability.
In 1999, then Drainage and Irrigation Department director-general Kheizul Abdullah conceded that no attempt had been made by the respective state governments to establish the capacity to supply water of each of the 150 river basins in the country. He said that it was easy to work out the amount of water that could be extracted sustainably from each basin.
"As long as the state governments fail to consider the capacity of the river basin, there is no guarantee that adding new dams can solve water shortages," he said.
Water demand management essential
The facts from developed countries revealed that the water and energy conservation campaigns in these countries have resulted in phenomenal savings in water and energy consumption. Thus, without the need to construct any new dams, conservation measures alone have resulted in breath-taking savings in water and energy consumption while at the same time produced impressive growth figures.
Every country that experiences water shortage knows the urgent need for water demand management. Singapore is a good example. Water demand management includes targets set for per capita water use, and reductions in non-revenue water.
Malaysia is blessed to be among the countries in the world with abundant rainwater, yet we are the worst squanderers of this natural resource. We have many times more water than most African countries and yet we are facing a water shortage crisis.
Malaysians are among the worst water wasters in the world, with a national average water consumption of 200 litres/capita/day when 20 to 30 litres of water per person per day is considered adequate for basic human needs. Urban Malaysians are worse – they use more than 500 litres/capita/day.
Besides a reasonable tariff to discourage wastage of water, a comprehensive water demand management policy would include changes to building by-laws, through subsidising the installation of water-saving devices in business and residential properties and through giving industry incentives to switch to water-efficient technologies, besides incentives to household consumers to conserve water.
Empty promises, damned lives
Large dams, on the other hand, cause imbalance to the natural hydrological and ecological system both upstream and downstream, apart from destroying the lives of the villagers whose homes would be submerged by the dam.
More than 3,000 lives would be affected adversely just as has happened with the Batang Ai and Bakun dams in Sarawak. The effects on the traditional lives and cultures of the displaced peoples could best be described as "ethnocide".
University of Malaya Professor Shanthi Thambiah defined it as : "Ethnocide may be defined as the process whereby a culturally distinct people loses its identity due to policies designed to erode its land and resource base, the use of its language, its own social and political institution as well as its traditions, art forms, religious practices and cultural values. When such policies are carried out systematically by governments in the pretext of social progress, national unity, economic development, military security, then such governments are guilty of ethnocide…"
The "damned lives" of the more than 10,000 indigenous peoples from 15 different ethnic groups at the Sungai Asap Resettlement Scheme in Sarawak should be a lesson for all Malaysians to say "Never Again" to anymore mega-dams.
It is time that the Prime Minister responsible for the Bakun dam project and this ethnocidal "Operation Exodus", Dr Mahathir Mohamad, paid a visit to Sungai Asap to see what the Bakun dam has done to the lives of so many indigenous peoples there before approving this proposed Papar dam.
KUA KIA SOONG is the adviser of Suara Rakyat Malaysia (Suaram).