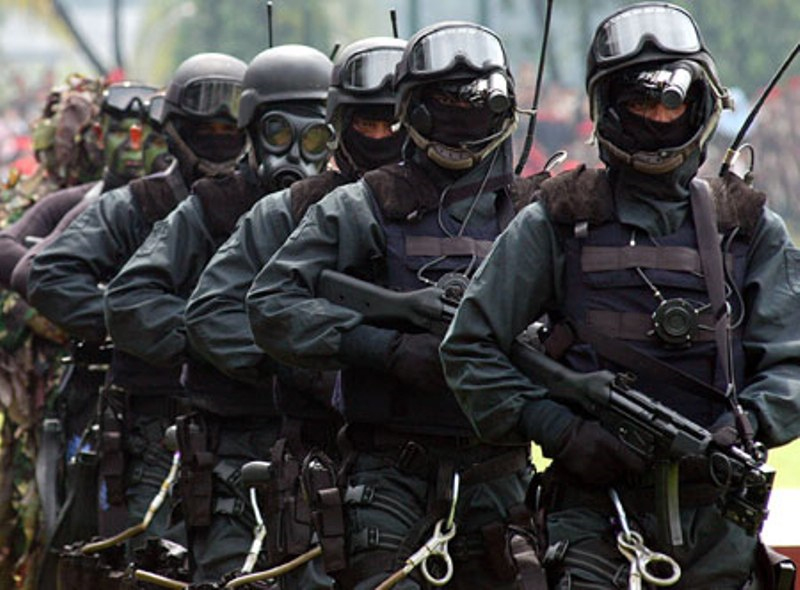 JAKARTA - Police commandos from Indonesia are standing by to launch a mission to rescue 10 of the country's seamen being held hostage by Abu Sayyaf militants in the Philippines.
Indonesian National Police spokesman Anton Charliyan yesterday said squads from the elite Detachment 88 (Densus 88) counter-terrorism unit and Brimob, the police mobile brigade, "are ready to assist when the time comes".
"We are now coordinating with Interpol," said the Inspector-General, in the wake of confirmation that the Abu Sayyaf have demanded more than US$1mil (RM4mil) for the release of the hostages and the vessel, Anand 12.
The barge is one of two Indonesia-flagged vessels believed to have been hijacked by a militant cell led by Alhabsi Misaya, according to Philippine Army sources.
Misaya is an Abu Sayyaf leader behind several kidnapping and murder cases, including the beheading last November of Malaysian businessman Bernard Then, who was seized from a resort in Sabah, East Malaysia, in May.
Philippine army Major-General Demy Tejares, citing intelligence yet to be verified, said the Indonesian hostages may have been taken by Misaya's men to their stronghold in the Philippine province of Sulu.
Indonesia's Foreign Ministry yesterday confirmed that the Anand 12, with a load of 7,000 tonnes of coal, was intercepted by "pirates" last Saturday while it was being towed by the tugboat, Brahma 12.
The Brahma 12 was found abandoned and adrift near Tawi-Tawi.
The island province and Sulu are located in the same autonomous region of Muslim Mindanao in southern Philippines, where elements of the Abu Sayyaf are based.
Foreign Minister Retno Marsudi said she is coordinating with the authorities in the Philippines to resolve the crisis, adding that the priority remains "the safety of the 10 Indonesian crew being held hostage".
The hijack occurred while the two vessels were en route to Batangas in southern Philippines from Banjarmasin, South Kalimantan, which they left on March 15.
"The exact time (of the incident) is not clear but the owner of the vessels found out about it on March 26 when they were contacted by a person who claimed to be from the Abu Sayyaf," said Foreign Ministry spokesman Armanatha Nasir.
He added that the hostage-takers had contacted the owner of the Anand 12 twice since then, and demanded a ransom for the release of the crew and the barge.
The Badan Intelijen Negara (BIN), Indonesia's national intelligence agency, said the hijackers have asked for a ransom of "50 million peso or around 15 billion rupiah (S$1.4 million)". Tempo news, quoting spy chief Sutiyoso yesterday, reported that BIN also has information that the "pirates are treating the hostages well".
Indonesian lawmakers have urged the government not to give in to the demand for ransom.
The Abu Sayyaf was formed in 1991 with Al-Qaeda funding but the group has since gained prominence for taking tourists hostage, mainly to hold them for ransom to finance its cause.
The extremist group is now loyal to the Islamic State in Iraq and Syria (ISIS). Latest intelligence reports indicate that the Philippines is running the risk of becoming a breeding ground for militants aspiring to join ISIS, with the Abu Sayyaf as a proxy for its ambition to declare a South-east Asia "wilayat", or province of ISIS. – The Straits Times/Asia News Network