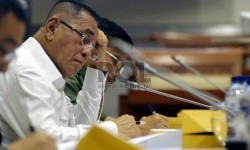 JAKARTA - Efforts to release seven Indonesian sailors recently abducted in waters off southern Philippines have progressed, with the defense ministries of the two countries on Monday locating the hostages.
The government had been tight-lipped over its handling of the aftermath of the kidnapping of seven members of the crew of the tugboat Charles 001 on June 20 in waters near Philippines' Jolo island, where the headquarters of terrorist group Abu Sayyaf is located.
Coordinating Political, Legal and Security Affairs Minister Luhut Pandjaitan said that Defense Minister Ryamizard Ryacudu had flown to the Philippines to discuss a scheme to release the hostages with his counterpart Voltaire Gazmin.
According to information Gazmin gave to Ryamizard, Luhut added, the site where the seven men were being held hostage had been identified.
Luhut refused to disclose the exact location of the seven hostages, but insisted that all the men were alive and well.
"I just phoned our defense minister and it seems that good progress was made at the meeting with his counterpart. The hostages are well," Luhut said.
The meeting resulted in an agreement between the armies of the two countries to beef up security in both Indonesian and Philippine waters.
The Philippine intelligence agency has yet to confirm whether the seven people were abducted by Abu Sayyaf, because three of them were taken by a group of abductors speaking in English while the other four were taken by Malay-speaking kidnappers two hours later.
The abductors then set the Charles 001 free to return to Samarinda in East Kalimantan, manned by a remaining crew of six; the vessel arrived in Samarinda on Saturday.
Abu Sayyaf has for more than a decade been notorious for its profit-driven activities, such as extortion and kidnap-for-ransom, and has a number of sub-operations under its control.
President Joko "Jokowi" Widodo meanwhile instructed related officials to maintain coordination with the Philippine authorities in order to rescue the hostages as soon as possible.
"This should serve as a 'trigger' to prevent similar incidents from reoccurring in the future," Cabinet Secretary Pramono Anung said on Monday, playing down criticism of a recent trilateral meeting between Indonesia, the Philippines and Malaysia in Yogyakarta.
Port authorities in Samarinda had earlier warned PT Perusahaan Pelayaran (PP) Rusianto Bersaudara, which operates the Charles 001, that the route its boat was taking to transport coal to the Philippines was dangerous, but the company said it was willing to take the risk.
"Sulu waters in the southern part of the Philippines are a conflict area. Abu Sayyaf, which opposes the legitimate government, is active in the area," said Samarinda port authority (KSOP) head Yus K. Usmany.
The chairman of House of Representatives Commission I overseeing intelligence, defense and foreign affairs, TB Hasanuddin, said that the Indonesian and Philippine militaries had to work hand in hand to secure areas traversed by Indonesian vessels transporting coal to neighboring countries. IDL