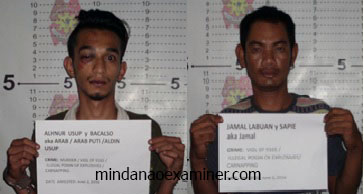 ZAMBOANGA CITY - Police have captured two Abu Sayyaf rebels following a motorcycle chase that ended in a red light district here before dawn on Thursday.
Superintendent Rogelio Alabata, a regional police spokesman, said Alhnur Usup and Jamal Labuan were cornered along Governor Camins Road.
Pursuing policemen also seized a fragmentation grenade and illegal drugs from the suspects' motorcycle's utility box.
Alabata said the two are followers of Abu Sayyaf leader Indang Susukan in Sulu province.
Usup is the subject of an arrest warrant in connection with numerous murder cases.
Authorities, however, did not confirm if Usup – a resident of Talon-Talon village, and Labuan, who is from Taluksangay village, all in Zamboanga – were planning to kidnap or launch terror attacks in the city.
Alabata said policemen were to serve arrest warrants against the suspects, but they managed to escape on a motorcycle, forcing lawmen to give chase. They were cornered in Zamboanga's red light district.
The arrest came as government ground forces were augmented in the province as the extremist group resumed its attacks after the military seized the camp of Susukan in a remote village in Maimbung town, Sulu recently.
Susukan is a brother of Sulu-based Abu Sayyaf leader Mujiv Susukan, linked by the military to the beheading of Malaysian hostage Bernard Then in November 2015 after his family failed to pay the ransom.
Earlier, a government soldier was killed while his companion was wounded in an attack in the town of Patikul, Sulu.
The rebels also lobbed a grenade on a military truck transporting troops in Jolo town and injured seven special rangers who just arrived by boat in Jolo from Zamboanga City and were heading to their camp when the attack occurred at the port area.