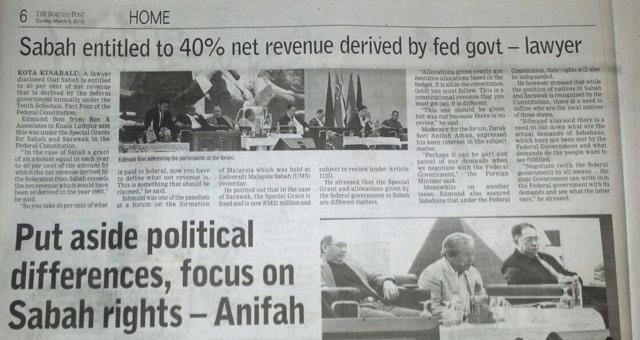 KOTA KINABALU: A group of Sabah leaders are pushing to collect whatever revenue and dues owed to the state by the federal government.
Leading the push is Foreign Minister Datuk Seri Anifah Aman who is proposing the setting up of a panel of legal and financial experts to pursue the matter.
Anifah said on Sunday that the proposed Sabah Revenue Rights Technical Committee could comprise representatives from Sabah Attorney General's Chambers as well as the state Finance Ministry.
Civil society leaders and those in the legal profession could also be invited to sit as members of the committee that would be tasked to come up with a report to be submitted to the Prime Minister, he said after hosting a luncheon meeting with a group of Sabah leaders here.
The meeting was held in the wake of the formation of the National Committee on Sabah and Sarawak's Constitutional Rights.
The meeting was also aimed at gathering additional information regarding Sabah's revenue rights under the Special Grants and Additional Revenue Rights provisions of the Federal Constitution.
In particular, Anifah said he sought input on Sabah's existing revenue collection rights and obligations as specified under the Constitution.
'We are not seeking a change to the Constitution. We are concerned only with following through on Sabah's obligations in terms of revenue collection under the Federal Constitution with particular emphasis on past uncollected revenues," he said.
"That is to say, what revenues should Sabah have collected already and how those same revenues can be collected today and in the future," Anifah added.
Anifah said he was seeking advice and submissions on the question of Sabah's constitutional revenue rights in respect of the state's mutual and shared obligations with the federal government and the extent to which these obligations were mandatory.
"The Federal Constitution contains provisions which are designed to safeguard the rights of Sabah," he said.
"These provisions also make it obligatory for Sabah to collect revenues from various sectors based on the Special Grants and Revenue Rights provisions of the Federal Constitution," Anifah said.
"To achieve this, the federal government must play its part as these revenues are essential in developing an economically strong Sabah. And a strong Sabah means an even stronger Malaysian Federation," he added.
Among those present at the meeting were Bingkor State Assemblyman Datuk Dr. Jeffrey Kitingan, former chief minister Datuk Yong Teck Lee, retired civil servant Datuk Udin Dullah, former state minister Datuk James Ligunjang, medical practitioner Dr. Richard Barrow as well as lawyers Ansari Abdullah and Tengku Fuad Tengku Ahmad.