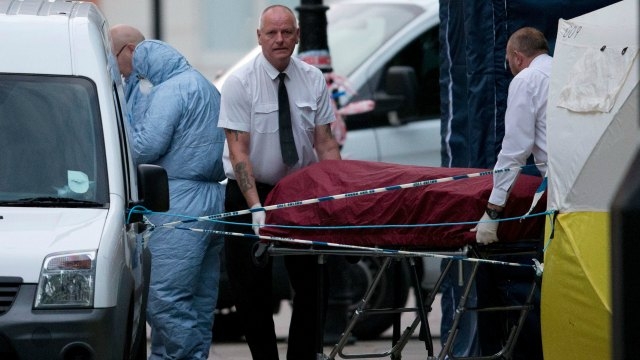 LONDON - A teenage murder suspect was in police custody Thursday after a woman was stabbed to death and five others injured in a street attack in the British capital.
Scotland Yard said that early indications suggested that mental health was a factor in the incident, but the motive has not yet been determined.
Police were called to reports of a man attacking people with a knife in Russell Square, near the British Museum in central London, at about 10.30 p.m. local time Wednesday. Officers arrived at the scene soon afterward and the 19-year-old suspect was Tasered and taken to a hospital. The woman, believed to be in her 60s, was pronounced dead at the scene, police said.
Scotland Yard said the suspect, who has not been named, was treated in the hospital and is now in custody at a police station in south London. He has been arrested on suspicion of murder.
Two women and three men were injured in the attack. Two of the victims remained in hospital Thursday while the others had been discharged, police said.
Manuel Simo, 32, who works at a hotel in the area, told the London Evening Standard: "At first, people were confused and thought it was a traffic accident. When they realized what was happening people were screaming and running away from a guy who was holding a knife. Apparently he was just stabbing people randomly — it's horrible. People ran away in the direction of the British Museum."
Scotland Yard's homicide and major crime team is leading the investigation, supported by counter-terrorism officers.
"Early indications suggest that mental health was a factor in this horrific attack. However we are keeping an open mind regarding the motive," said Scotland Yard Assistant Commissioner Mark Rowley.
A subway train travelling between King's Cross and Russell Square was targeted by a suicide bomber in the terror attacks on the London transport system of July 2005, and a bomb was detonated on a double-decker bus in nearby Tavistock Square. The series of attacks killed 52 people.
The stabbings came as Scotland Yard announced 600 extra firearms officers to patrol the streets of London in a bid to protect residents from the threat of terrorism, following a spate of recent attacks in Europe, including one in Nice, France, that killed 84 people.
"As a precautionary measure, Londoners will wake up this morning to notice an increased presence on the streets of officers, including armed officers today," Rowley said Thursday.
Sadiq Khan, the mayor of London, urged Londoners to "remain calm and vigilant."
"The safety of all Londoners is my number one priority and my heart goes out to the victims of the incident in Russell Square and their loved ones," he said.