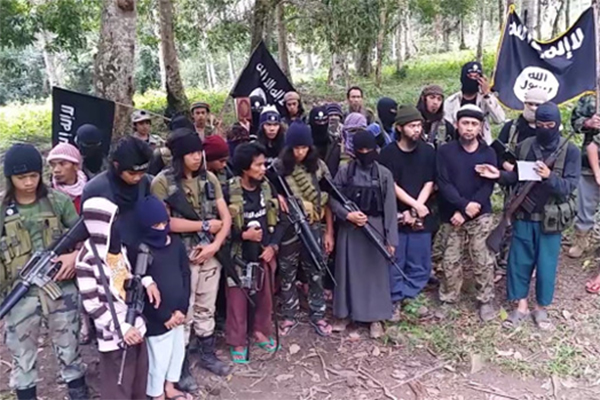 MANILA, Philippines - Government peace initiatives with Muslim rebels remain on track, but the Duterte administration foresees more violence as the military continues offensive operations against the Abu Sayyaf and those affiliated with the terrorist Islamic State (IS).
President Duterte warned the people anew yesterday of the threat posed by Islamic extremist groups to his quest for peace in the south.
"In Mindanao, we are lucky indeed that MI(LF) and MN(LF) are ready to talk. The problem is time. We were overtaken by the events in the Middle East," he said, referring to the Moro Islamic Liberation Front and the Moro National Liberation Front.
He said more violence could erupt between government forces and the Abu Sayyaf in the wake of reports that one of its leaders, Isnilon Hapilon, has been appointed as leader of the IS group in the region.
"There is now in this island of Mindanao and in Jolo, diyan sa mga islands diyan iyong mga Abu Sayyaf at iyong pinaka-leader si Hapilon was sent by the ISIS because he was appointed now, the ISIS leader. I think for this part of Indonesia, Malaysia, Brunei and Philippines," Duterte said, using another acronym of the IS.
He cited the military operations last week in Butig, Lanao del Sur where Hapilon was reportedly injured.
"I do not think I can talk to the terrorist," said the President, who has reported in his previous speeches that there were a handful of Arab preachers spotted in known terrorist lairs in recent months.
Duterte indicated that he has not abandoned the peace talks with the Moro groups, adding that he is still ready to talk to MNLF leader Nur Misuari.
The administration is also pursuing talks with the MILF after Duterte signed last November an executive order reconstituting the Bangsamoro Transition Council.
Citing his Moro roots, Duterte asked for understanding from his brothers regarding his concerns about extremism in the region.
"It's not about the Moro people. It's about the Arabs... it's about the ISIS," he said.
Islamist groups' threat
As this developed, Duterte also warned of bloody consequences in case IS extremists are able to fully penetrate the Abu Sayyaf and other groups in Southern Philippines.
Duterte also noted that the impending crackdown by the United States on the IS militants might spill over to Southern Philippines.
"For heaven's sake, I will never talk to the terrorists," Duterte said in a speech yesterday, explaining why he would fight against IS groups despite his call for peace with other Moro groups in the region.
"And if (US President Donald) Trump decides to invade the Middle East and if the ISIS loses its land base there, they will start to scatter around the world. Their favorite target would be the southern part of the Philippines," the President said.
"It's gonna be bloody," he warned. –
With Perseus Echeminada, Edith Regalado