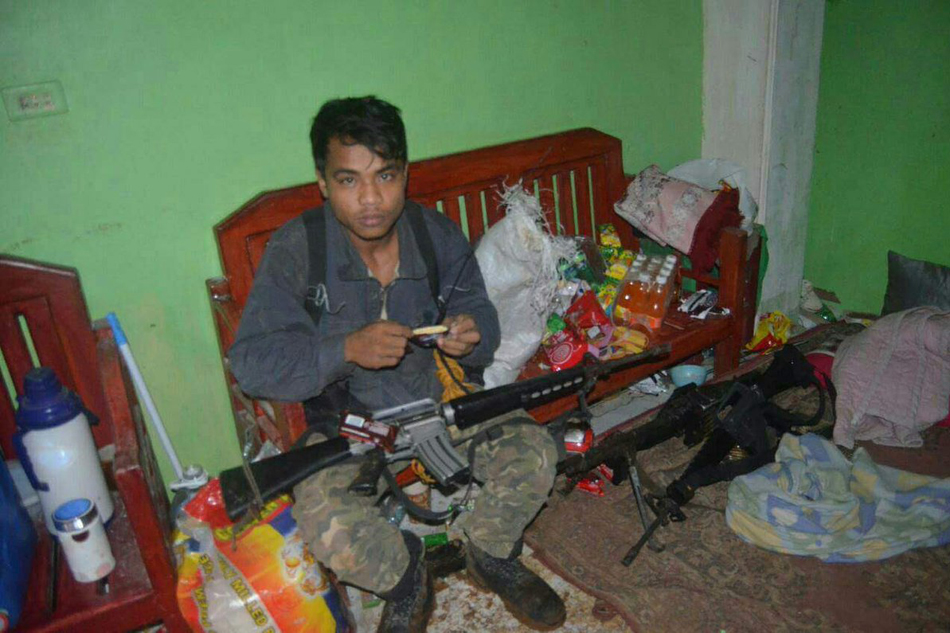 Islamic State (IS)-inspired terrorists holed up in Marawi are guarding around P1.4 billion in cash and jewelry looted from the city, a government official said on Friday.
The official, who asked not to be identified because he was not allowed to speak on the matter, said government security forces learned that the Maute and Abu Sayyaf terrorists in the city were guarding 70 bags of loot, each worth around P20 million.
"They're not leaving because they have 70 bags from looting [and the loot] is about P20 million per bag," the official said.
"We have a video of that," he added.
Hostages forced to loot
Lt. Col. Jo-Ar Herrera, spokesperson for the Army's 1st Infantry Division and Joint Task Force Marawi, said earlier this month that the terrorists had forced hostages to convert to Islam, take up arms against government forces, serve as sex slaves and loot millions of pesos in cash, firearms, ammunition, gold and jewelry from houses and business establishments in Marawi.
Herrera said at least 10 hostages who had escaped separately from their captors disclosed the looting the terrorists forced them to undertake.
"They believe that the amount of cash and valuable items looted could be worth more [than P500 million], as there were several other groups being forced by terrorists to loot and steal for them," he said.
The stolen items were stored in a mosque, "received by designated Maute members who were keeping a list for accounting," he added.
The terrorists, who stormed Marawi on May 23 to establish an enclave for the Middle East-based IS jihadist group in Southeast Asia, are believed to be holding around 100 hostages, including a Catholic priest.
Cornered
Government forces have pushed the terrorists into a box in the city center, where the gunmen have split into small groups and holed up in houses and high-rise buildings, the military said.
National Security Adviser Hermogenes Esperon Jr. said on Friday that the military expected to retake Marawi "in a few more days."
He said there were around 70 remaining terrorists who controlled around 600 houses and buildings concentrated in three villages in the city center.
Esperon said the military, which had around 7,000 soldiers in the battle zone, was recapturing 40 to 50 houses and buildings a day.
"I would say the area is now constricted to three barangays, it's about 49 hectares. We used to have the main battle area in 12 barangays. But now, it's in only three barangays," Esperon said.
"But this is where we have the built-up area, the center of the poblacion of Marawi. And so, we expect a slower advance. But nonetheless, our troops are determined and they have learned so much from the past experiences," he added.
Esperon said the terrorists who attacked the city originally numbered more than 660, including 20 foreign fighters.
"Of course, that number has been reduced. We would admit some have escaped. We are not certain of the 70 remaining but that is the estimate of our snipers," he said.
By Inquirer.net