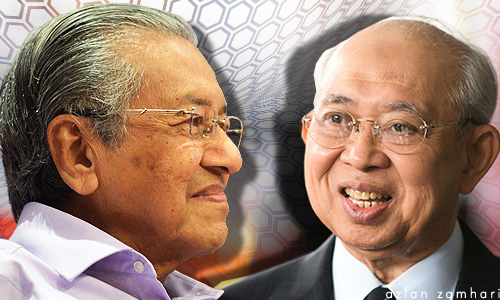 Umno president contender Tengku Razaleigh Hamzah has credited Prime Minister Dr Mahathir Mohamad as his motivation to come out of retirement.
In an interview with Channel News Asia, the Umno veteran said age is now no longer a factor, with Mahathir's comeback at the age of 92.
"Age is not a concern now. After all, our prime minister is 93.
"Umno needs a leader that's credible to chart its future, to restore faith and glory," said the 81-year-old former finance minister.
In 1987, Tengku Razaleigh failed to unseat Mahathir as then Umno president.
He then quit the party to form Semangat 46 but rejoined Umno in 1998.
At the same time, Tengku Razaleigh also noted that Umno must go through a regeneration process in order to rebuild the party's spirit.
"Forty percent of the population are youths; we need to include more young professionals, intellectuals and rebuild the party's spirit.
"Umno is not a party for the elite," he said.
According to Channel News Asia, Tengku Razaleigh had earlier met with about 300 Sabah Umno delegates from 25 Umno divisions across the state in Kota Kinabalu.
'Umno worth fighting for'
In the interview, Tengku Razaleigh also reportedly explained that there is no other party in Malaysia that has the same extensive network on the ground like Umno.
"It's the envy of Pakatan Harapan, and Mahathir knew that it's an asset that a young coalition like Harapan would not have," said the Gua Musang MP, who added that Umno has also retained its physical assets that could be worth hundreds of millions of ringgit.
The assets included the Putra World Trade Centre and the Umno building in the heart of Kuala Lumpur - held in trust by the party president and secretary general, among other office bearers.
"I will need to look at the files to see whether these assets are still good," he was further quoted as saying.
In the upcoming Umno polls, Tengku Razaleigh is in the running for the president's post against Umno acting president Ahmad Zahid Hamidi, Youth chief Khairy Jamaluddin, as well as two others.
Some 165,000 delegates are voting across 191 divisions nationwide this Saturday for leaders to fill Umno's top positions.